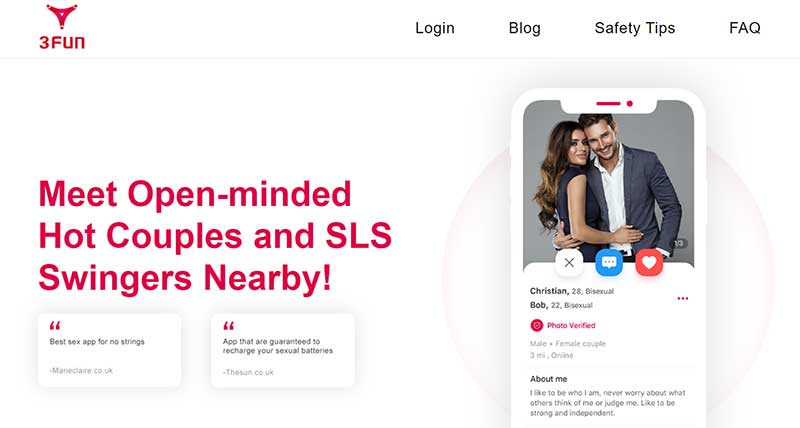 Most people believe that becoming SLS swingers will improve their sex life while introducing them to new exciting partners. Others believe that this isn't entirely true. But if you don't have trust and communication in your relationship, swinging will cause more harm than good to you and your partner.
What is the swinger lifestyle?
Swinger lifestyle is singles or couples who decide to have an open relationship, permitting their partners to have sex with other people. This type of relationship can work for anyone willing to follow the rules, respect the other partner, be honest, get tested for STIs, use protection, being selective when selecting partners, and remaining private about such a relationship.
In the community of swinger lifestyle, a couple can decide to make their unique rules around what they need in their relationship or marriage and abide by the boundaries set. Singles or couples who choose this lifestyle look for one or more partners for the pure excitement of getting from that partner what they don't get from their spouse.
Even though the swinger lifestyle may not work for all relationships, those who are lucky enough to have tried swinging and it has worked for them enjoy amazing relationship benefits that the swinging lifestyle brings. Contrary to what others believe, SLS swingers enjoy healthier and stronger relationships than their peers.
Aside from engaging in sexual activities with various people, there are various benefits of engaging in a swinging lifestyle, and more people are giving it a try. Swinging stats in Europe show that:
About 90,000 men and women in Denmark admit to regular swinging
Around 500,000 UK residents are into the swinger lifestyle
95 percent of swingers surveyed disclosed that they were in a long-running relationship
60 percent of female swingers say they are bisexual, and only 17 percent of men say the same
This clearly shows that there's something about the swinger lifestyle that people love. One thing that attracts people to this lifestyle is the freedom they get to have sex with more than one partner, keeping their passion alive in a committed relationship when it may otherwise fade.
Swinger lifestyle can allow those in a long-lasting relationship to keep their sexuality alive and share new experiences, mostly in a safe, secure environment with people that have the same ideas. But before you take on the swinger lifestyle, you need to ensure that your partner is okay with that.
Which App should you use to meet other SLS swingers?
The swinger lifestyle app is 3Fun. You can meet local open-minded people who are interested in the swinger lifestyle. 3Fun is a private and safe space where you can share your desires and explore different sexual preferences. You can explore your interests in swinging, polyamory, and other alternative relationships. Express love beyond societal norms.
Why 3Fun is the best app for SLS swingers?
3Fun has more than 2.5 million active SLS swingers
3Fun caters to providing an efficient and safe dating app for people into the swinger lifestyle
3Fun censors all of the users manually
3Fun has zero-tolerance for fakes
3Fun offers 24×7 customer service
3Fun do not ask users to pay to read or send messages – users are free to send unlimited messages to their matches for free
Users can upload private pictures and others can not view them without permission
The user profile pictures here are always verified to make sure your dates look like their photos
Conclusion
3Fun is the best free app for SLS swingers to meet and date. This app has an exciting interface and dynamics, allowing users to easily move and change as new people show up. You can easily navigate the categories of new people. No matter your sexual orientation, whether gay, transgender, lesbian, bisexual, pansexual, polysexual, or queer, 3Fun has got you covered!