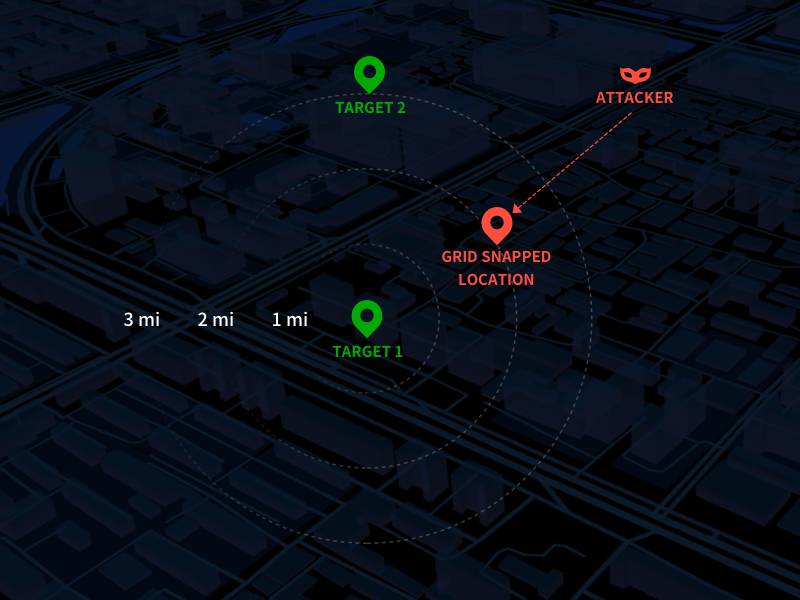 3Fun caters to providing a better and safer community for our users. All sensitive information has been encrypted. Hackers are unable to find your exact location even if they hack 3Fun successfully.

To further achieve its goal of being the most trustworthy non-monogamous dating product available, 3Fun has implemented a series of new updates and enhancements across the platform to protect user data from leaks, breaches, and vulnerabilities. The updates include the approximate distance – the platform generates approximate distances for potential matches based on imprecise locations.
3Fun protects your location in three ways:
a. 3Fun never sends the user's exact GPS data from the server to the app. Instead, 3Fun sends the approximate distance. 
b. There will be a 1-3miles error between the system's distance and the real distance. 
c. Hackers can't get the user's real location by using trilateration
3Fun calculates distances on their servers instead of in their apps.  From now on, network messages sent from server to app would only contain pre-calculated distances, without actual locations.
Aside from securing user identities, 3Fun has also upgraded its data security and privacy safeguards. The new security protocols and safety standards reflect 3Fun's commitment to data protection.
As of today, 3Fun's database is highly encrypted, and all data is safely stored and protected on Amazon US, and team members implemented Amazon WAF, a web application firewall that protects against common web exploits and bots. By default, the app uses pre-signed URLs to encrypt user photos. 3Fun also makes sure all APIs that contain sensitive information, such as sexual orientation, are highly encrypted.
This new update builds on 3Fun's earlier round of security updates, which enhanced and encrypted sensitive user information. The updates included a pair of important user-driven features: "Incognito Mode" and "Block Contacts."
In addition to these security improvements, 3Fun will continue to invest in additional safety and privacy measures to provide the safest user experience possible.