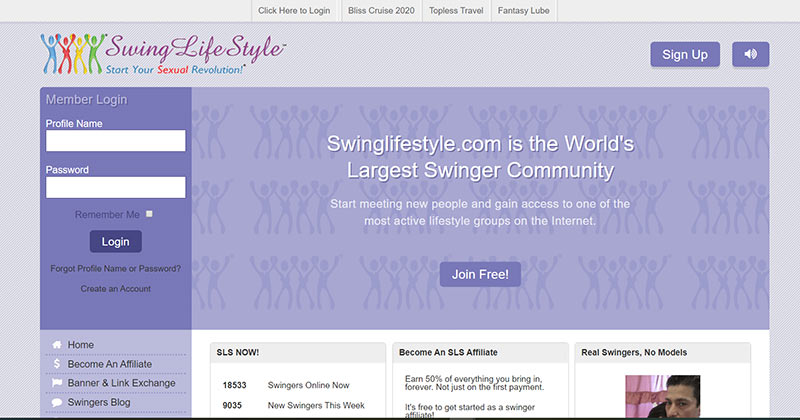 Like the name suggests, SwingLifestyle is more than just people chatting online. It is about connecting an entire community of people and their particular interests. This is a site for open-minded people who are ready to explore the boundaries of sexual conventions. As untraditional as the site's offerings are, from partner swapping to threesomes, as rare are the platforms that provide them.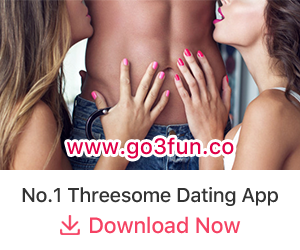 How Does SwingLifestyle Work?
Registration
You will only need a few minutes to get started in your Swinger life. Unlike its more unique appeal, its registration process blends in seamlessly with those of other dating sites. After entering some basic information about yourself, you will be asked to register an email address and pick out a username. You can then pick out your preferences and a profile picture. Although you don't have to upload a photo, they are all verified by the staff from SwingLifestyle, so make sure that you are above the legal age of 18.
With or without a picture, you are now ready to go public with your profile and browse the thousands already posted. It is important to note that depending on your membership, you might not actually be able to view the profiles of all the members. Premium members who have paid for their subscription will get the option of hiding their profiles from non-paying users. For those who like to get serious in their search and want to save some time, this is a practical way of filtering through the wide range of profiles on offer. However, the paying members will still have the option of viewing all profiles regardless of subscription.
Premium members' profiles might not be the only thing that will appear invisible to those signed up on a free subscription, and it is rather bad news for those who like to undress. If they don't choose to keep their clothes on by themselves, SwingLifestyle will make sure to blur any form of nudity for any curious members who are not willing to pay the subscription fee. Don't despair though, it is all about avoiding scammers and unnecessary trouble… and maybe also a bit of an incentive to upgrade.
Navigating the Platform
Before you waste your time trying to work out the blurry outline of some censored picture, it is important to remember that there are thousands more you can view without any restriction. The homepage features a search button for you to refine your exploration to match your interests according to location, age or sexual interest and orientation. Once a profile catches your attention, you can click on it to access more information on it. Apart from the usual physical details and username displayed, you will be able to access the most previous scales. The kinkiness scale will tell you everything you need to know about your compatibility with the other member and help you decide whether they are worth your friend's request. If you just can't wait to have fun anymore, you are also able to see who's online at the same time as you and get a pop-up notification as soon as they send you a message.
Before initiating any conversation with other users, you are free to browse through SwingLifestyle's large database of information sure to prove useful to even the most experienced swingers. If you are ready to make contact, you can send out up to five daily messages to any of the 50 profiles max which catches your attention. With a premium account, these numbers become unlimited.
Main/Special Features
The main features resume themselves to SwingLifestyle's chat system. On a basic membership, you will be able to receive messages from other users and read your most recent messages. If you want to reply or even initiate a conversation you are completely free to do that with a premium subscription.
But SwingLifestyle is not only about communication, the fun it promises its members is well reflected in the variety of features the site offers.
Chat Rooms and Forums
If you have a topic to discuss or some other subject dear to you, join or create a forum to share your thoughts on. Similarly, as a premium member, you will be able to access various chatrooms and exchange your interests.
Hot Date
This is not one of those awful work calendars which only remind you of all the work you still have to do, this is a calendar whose sole purpose is to make time for your enjoyment. This feature lets you put off public adverts about potential date times. All you then have to do, is wait for someone who is free at the same time as you to call you up on your offer and the date is set. It will certainly be hard for you to ever find your job meetings exciting after the ones SwingLifestyle has scheduled for you.
Events
Although similar to hot dates, SwingLifestyle's events feature lets you browse through any parties or other occasions initiated by fellow swingers. From clubs to house parties, their location will be announced on the site for you to sign up to. For those who sometimes like to ditch texts for face to face conversation, this is a great way of socializing in more varied settings.
Swinger Clubs
Swingers like to prize themselves on their uniqueness. To live out and share the full experience with people who share the same interests as you, SwingLifestyle lets you navigate all the swinger clubs across the US map.
Stories and Movies
For all the untamed spirits, the thousands of erotic stories and movies shared on the platform will let your imagination live out all its fantasies. These come in a mix of free and paid content.
Costs and Prices  
The costs come in a range of timespans but tend to be rather affordable when compared to similar dating sites:
$14.95 for 1 month
$9.98 per month for 3 months
$8.33 per month for 6 months
$5.83 per month for 1 year
$149.95 for lifetime membership
Is SwingLifestyle Safe?
SwingLifestyle promises full encryption of its users' personal and financial information. This also includes any messages you exchange with members. However, the site does not review any personal information you submit, and since you are not obliged to submit a picture, the risk of fake profiles and scammers does exist. A premium subscription lets you avoid most of these by hiding your profile from free members. If any issues do arise, you can block any member, anytime you want.
Pros
The platform is easy to use
Variety of options and features
Good quality and detailed profiles
Relatively cheap premium membership
Cons
Niche members base, not as many people
Pictureless profiles
Blurred images
Many features require a paid membership