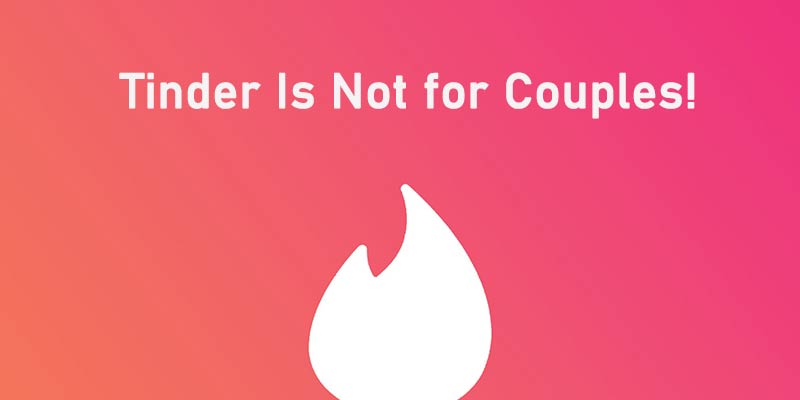 Some people spend their entire lives searching for the perfect partner, others have already found them and are now looking to bring their relationship to the next level. Although not suited for everyone, polyamorous relationships have gained traction in recent years to redefine the limits of commitment and healthy love life. Some couples may be looking to test their durability, whilst others are searching for bold ways to experiment. Either way, there are many reasons why couples have begun to swarm online dating apps to find a third person who shares their same interests.
If finding a perfect match wasn't already hard enough with just two people concerned, it can become even trickier when three become involved. Finding a dating app to suit your needs and expectations is therefore crucial, especially since the most popular choices are not always the most successful ones.
Couples Looking to Date on Tinder
Tinder is a flagship name for the online dating world and its popularity is well-known to lure every type of person from every corner of the globe onto its site with the joint goal of finding that perfect match.
Tinder is designed to help people initiate a relationship, whether it is a pair of singles or a couple looking for a third partner. Since the dating app is relatively unspecific about who it is trying to match together, couples can advertise themselves on a shared account and blend in with all the other profiles on the platform. This is because Tinder does not offer any specific option for threesomes and makes the whole endeavor that much harder.
Although there is certainly a fair share of users who would be interested in experimenting in that domain, they remain tricky to find. It is hard for a couple to strike that fine balance between making their intentions without just coming across as some bizarre pair of strangers. This means having to navigate the mass of uninterested profiles and unsolicited judgment about you and your partner, before finding a suitable match who will keep their insults to themselves.
Threesomes and open relationships are becoming more and more accepted into the general dating culture, but they still remain a complicated subject for people to openly interact with. With Tinder users having caught on to the polygamous intentions of certain profiles listed on the dating app, some have actively sought to boycott them. If you are a couple hoping to use Tinder, you should make sure that you are ready to overcome many disappointments before finding anything close to what you are looking for.
Most couples on Tinder tend to be looking for another woman to join in on their fun and it is rarely the opposite case. Hence, whereas a couple's bio will try to outline exactly what they are looking for, singles are unlikely to, which consequently makes it more difficult to connect with them since sending each one of them a message is simply unrealistic.
For a couple to maximize their chances of finding the missing member to their trio, their Tinder profile construction is crucial. Being able to catch someone's attention in both a subtle yet concise way is the tricky key to securing a successful threesome. Pictures of both members should be included since these signal the couple's intention most clearly. After all, no one will think of mistaking you for another single looking for love if your profile is saturated with photos of you and your partner.
Although Tinder is open to couples just like it is open to almost anybody hoping to connect with another user, it does require considerable active engagement and time investment on behalf of the pair to find someone who shares their same curiosities.
If you are hoping to get straight to the point and save you and your partner some valuable time, you may wish to consider more specific online dating alternatives. Luckily, Tinder is not the only app with millions of users looking for partners, there exist a range of sites specifically designed for couples interested in anything from swinging and threesomes to even more adventurous affairs.
Finding Your Missing Third with 3Fun App
3Fun app is one of the most opportunistic and reliable dating apps for couples looking to add one to their meager party of two. LGBTQ+ friendly, 3Fun welcomes a variety of people looking to try something new for the first time or who have simply come back for some more fun.
Since the app is tailored to more unconventional dating lifestyles, the need for a couple to justify their intentions is diminished and instead offers them a greater amount of privacy. 3Fun lets you upload private photos to only be seen and accessed by the users you have mutually matched with. This ensures that the greater part of your personal details is only revealed to those who have already expressed an interest in your joint endeavors.
This is potentially the greatest change from Tinder's more tense and couple-hostile environment. Even if you are open to sharing your sex life with an additional stranger, this does not mean that the whole experience shouldn't remain as private as you would like it to be. For couples to open up to such new adventures can be a vulnerable and sensitive thing to do and requires a certain level of stability in the relationship. 3Fun"s accessible app is designed to help alleviate all such worries and provide you with an experience you won't ever forget.
The dating site's thrilling interface encourages even the most reserved couples to live out their curiosities and explore every kind of threesome imaginable. With its quick registration and photo verification service, 3Fun makes sure to keep scammers out and offer a safe and secure platform for all of its users to connect. You can also navigate the app and message people free of charge. 3Fun is designed to offer couples the platform they deserve to experiment with the boundaries of their relationship.