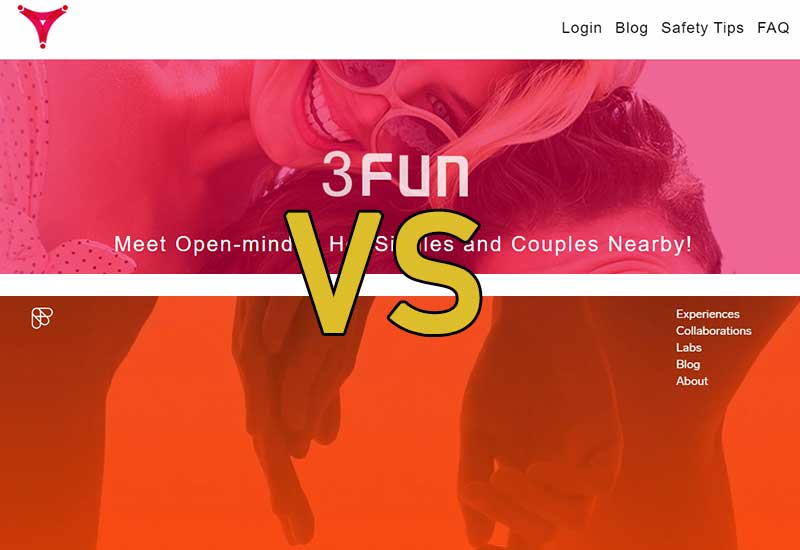 Threesomes and Couple Swaps Made Easy
If you're a little more on the sexually curious side, threesomes and couple swap fun ways to get intimate with others and explore your own sexuality. However, with modern taboos getting in the way, it can be difficult to find couples to mingle with.
Luckily for you, there are a few options that will allow you to explore your sexual desires without feeling ostracized or out of place. These are dating apps designed specifically for people who want to engage in relationships, both sexual and non, with more than one person.
We've chosen two of the best options on the market to review and compare for you. We'll go over the features each app has, the type of community each one is best for, and several other important factors. Here's our comparison of 3Fun and Feeld.
How Do They Work?
Both apps function pretty similarly, and they're not unlike your average, one on one, monogamist dating apps. You create a profile, flesh it out a bit, and get to mingle with people who have profiles that attract you.
However, they differ in one major way: You won't be having one on one conversations with singles. You'll be engaging with people who are already in relationships and looking to add a third member, singles who want to have sex with pre-established couples or enter their relationships emotionally, and other couples who just want to have a night of swinging and exploring their sexual desires. There's less focus on finding love and long-term relationships than other apps.
When it comes to general features, there isn't much that sets the two apart. The devil is in the details, and we'll get to those later.
How Many People Use These Apps?
Obviously, you want to choose an app that has a lot of users. Firstly, a massive fan following shows that the platform works. Let's face it. People don't tend to flock to failing apps that don't work. Secondly, it means that you have a lot of people to interact with and potentially strike up some magic with. So, the user base numbers are important.
Both of these apps have roughly two-million users, but one sticks out due to its faster growth. While both have bulky fanbases, 3Fun grows by another 130,000 members every month. That means that you get over 130,000 new people to mingle with on a monthly basis. Your chances of finding a couple to match up with or a single to add to your sexual relationship has never been easier.
Feeld falls behind in that regard. It has a large fanbase, but it's not growing nearly as quickly as 3Fun, and that limits it a little bit. There are still roughly two-million people for you to meet, though.
User Friendliness
A clunky, unintuitive, and just downright messy dating app is a pain to navigate and use. So, how do these two apps compare?
Well, both have great interfaces that are easy to understand and fast to navigate. Small features such as 3Fun's intuitive dashboard and slightly easier to use buttons make 3Fun pull ahead on this one, but they both have similar features.
Setting up a profile is as easy as creating an account (Which is fast with Facebook login options) and typing in some information about yourself really quickly. From there, browsing profiles for other users is a breeze. Since that'll be what most of your first experiences are on the app, it's good that they swipe by with ease and there aren't any known issues regarding accidental swipes or anything like that.
Messaging is easier on 3Fun, though. The messaging system is free, and it allows you to seamlessly communicate with the people you want to have fun with. It functions a lot like an SMS system on a smartphone. It's just ran through the 3Fun app. For comparison, there are some minor speed complaints about Feeld's messaging system, and it's simply not as fast and intuitive as the 3Fun system.
The Features That Set Them Apart
Both of these apps have features that set them apart from each other and the rest of the dating apps on the market. It would be a mess to tear them both apart in one section, so we'll split each app's features into their own subsections. First, we'll tackle Feeld.
Feeld
Feeld has quite a few unique features and traits, but not all of them are good. Let's start with the positive first.
Notably, Feeld has a large selection of genders for you to choose from when setting up your profile. Being able to pick something that accurately depicts your gender is welcome on a dating site, but sadly, that's not always an option. Most others limit you to "male", "female", and "other". So, we're considering this a big plus.
Also, like 3Fun, Feeld lets you message people for free. Messaging is typically hidden behind a paywall on other apps. You can also look at the EULA before making an account. So, you don't waste your time just to find out you don't agree with the terms and conditions.
Not everything is positive, though. Feeld's messaging system is slow and clunky, and it restricts a lot of images that you might want to share. Feeld is a dating site for threesomes and swingers, but riskier photos and minor photo details can get a picture removed or flagged.
Most of the other unique features, such as Feeld's own version of flirting and being able to see who likes your profile, are locked behind a paywall. That makes mingling for free a bit more of a headache compared to 3Fun.
3Fun is similar to Feeld, but it does several things better. First, its messaging system is fluid, easy to use, and fully integrated into the free version of the app. Not having to pay for messaging means you can set up meetings and swing parties without paying a dime.
Unlike other dating apps, you can also see who likes your profile with the free version. That lets you get a head start on meeting up with couples without having to go in blind.
A private photo album also allows you to maintain some discretion that other apps don't give you. It allows you to keep any revealing photos or anything with your identity in it away from public eyes. However, the people you choose can still view those photos and enjoy them. This prevents your neighbors from seeing anything they shouldn't and it allows you to be a bit more comfortable on the platform. This is a major bonus for the 3Fun app.
There's also a "Passed" feature that lets you go back and view profiles that you deemed unsuitable in your previous browsing sessions. This is good when you might have accidentally put someone in your "Pass" list but actually want to get to know them. It'll also let you give people a second chance if you decide to give them a try after all.
One negative trait of 3Fun is that it's a lot easier to find a male to join you and your spouse than it is to find a female. If you're into male/male/female encounters, that's a good thing. You'll find someone very quickly, probably during the free trial, to hook up with. However, it's a bit more difficult if you're into male/female/female encounters. Couples are pretty easy to find, though. Swingers shouldn't have any problems finding a compatible couple to swap with.
Pricing
The pricing between these two apps shows that you get what you pay for. Feeld is definitely the cheaper of the two, and it costs just under $12 a month, with a special discount if you buy 3 months of membership at once. However, Feeld doesn't grow as fast as 3Fun, and its photo restrictions, lower quality interface and messaging, and loads of fake profiles mean that you'll have to work a bit harder to find matches that actually follow through when you try to meet up.
3Fun is the more expensive option. Its premium membership costs $29.9 per month and the quality behind that price tag shows. While it's harder to find single women for male/female/female encounters, everything is intuitive and easy to use, and the platform is growing at such a fast rate that the lack of single women who are willing to commit might actually resolve itself soon.
Both apps of free trials that allow you to message and connect with other members. However, you'll want to eventually pay for the premium option to fully enjoy either app.
User Reviews
User reviews for 3Fun are mostly positive with a focus on how easy it is to find matches who are actually willing to meet up for sexual encounters. There isn't a huge problem with fake profiles, and most users find the price to be more than fair.
Feeld users are a bit mixed. Some people enjoy the app and love its features, but others complain that its unintuitive and has a lot of fake profiles on it. With that being said, its premium option is cheap, and you can find locals if you try hard enough.
Verdict
It's pretty clear that 3Fun is our recommendation for anyone who can afford the monthly subscription. It's easier to use, more likely to produce results, and feature-packed.
Feeld is a great alternative with a lower price tag, but it has a few issues that keeps us from recommending it over 3Fun.