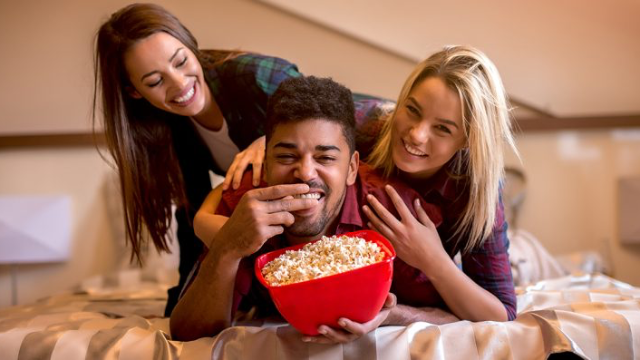 Finally, you have expressed your desire for a threesome to your partner. Fortunately, your partner is receptive to the idea to explore something new or better yet, had the same desire themselves. Afterward, don't just jump into having your three-way. Practice safety first, which includes both physical and emotional aspects. That said, here are some tips on how to have a successful threesome.
Be Completely Honest
As you discuss your options with your partner, clearly inform them of your needs as well as what you are comfortable or uncomfortable with. If certain acts such as kissing the third person in your threesome may cause you discomfort, make sure you tell your partner. Further, total honesty with your partner not only makes sure everything is put on the table but also ensures you can get into your three-way while being mindful of your partner. Additionally, knowing fully well your partner's desires ensures you both get the right partner for your three-way. If it goes well the first time, there's likely to be more.
Set Ground Rules
After openly expressing your feelings, wants and desires to your partner and having them do the same, it is time to set the rules. It is highly likely your partner may have expressed particular areas or actions as no-go zones. By all means, agree on what your partner is allowed to do. Further, if possible, include you're the third member of your threesome into the discussions either in person or via the internet. Decide, for example, where you would like to have your threesome. Some couples may be uncomfortable with having it at their home while for others, having a threesome at their home gives an added sense of security. Also, you may not want the third member of your three-way to sleepover afterward. Let it be known beforehand.
Stay sober
You may want to have a few drinks beforehand to set the mood, but getting drunk could easily lead to making wrong decisions as well as forgetting to be mindful of your partner. Stay sober and enjoy the whole experience.
Use different condoms
Ensure that you have enough condoms stacked by the bedside. If it is an FFM threesome, ensure condoms are switched between the penetration of both females as well as during fellatio. This ensures the male does not act as a transmitter of bacteria and body fluids between both women. Further, practicing safe sex will prevent you from contracting STDs.
Stay Clean
Ensure you clean any sex toys you may be used with clean wipes before you use them on another partner. Additionally, avoid having body fluids all over other partners since these could probably be spread to another member of the three-way through their mouths or hands. Body fluids, especially when having a threesome with a stranger could cause transmission of STDs.
Have a safe word
During your threesome, you may suddenly feel uncomfortable with some of your partner's actions. Additionally, something could happen, and you may need to take a break, such as a lack of lubrication. Adopting a phrase such as "I need to get some water" could help you and your partner know when things are not going so well and you need to readjust.
Having a safer and enjoyable three-way is easy. With these tips, you have assured a better overall experience. Remember, a happy threesome the first time makes it highly likely that there could be more. Follow the tips above and enjoy the experience of a successful threesome.