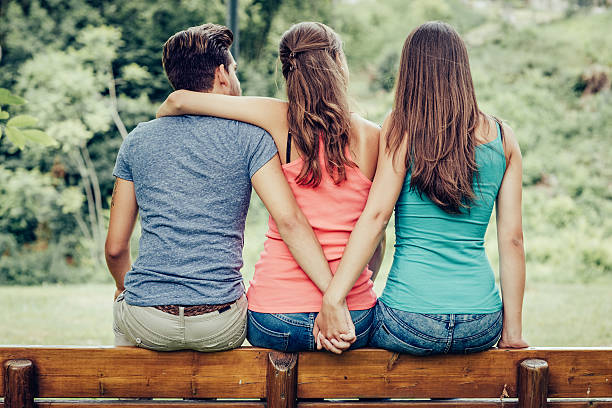 While most men fantasize about having an MFF threesome, and most women fantasize about being pleasured by two attractive studs, research shows that the reality is MMF threesomes are more common in today's society that MFF threesomes.  Why is that?
Clinical studies show that threesomes are some of the most common sexual activities that both men and women fantasize about.  However, who is participating in the threesome makes a huge difference in the experience, pleasure and satisfaction for all three members.
"Threesomes aren't anything new," explains Dr. Ryan Scoats, a sociologist from Birmingham City University and the first researcher to obtain a Doctorate in the field of threesomes.  "There are references to group sex in Roman art and literature.  But while threesomes may have happened in the past, they are definitely becoming more common in contemporary society."
Perhaps the single largest reason is that there are more MMF threesomes than MFF threesomes going on is that there are a much larger number of men willing to experiment and participate in threesome sex than there are women.   Whether for a casual hookup or a longer-term relationship, men, in general, are more open to the idea and desire to participate in a threesome than women.  Therefore, its easier to set up a casual threesome with two men and one woman than with one man and two women.
Aside from the obvious question of availability, women are much more inclined to consider a MFF threesome than a MFF threesome.  A threesome relationship for a woman can be much more fulfilling and satisfying with two men rather than a man and another woman.  First, the woman will feel more special as the center of attention from two attractive men.  With two men to satisfy her every desire, there is sure to be a more varied and longer sexual encounter with two studs rather than one.  Even after the first man is done, there is a second one eagerly happy to continue the encounter.
In an MFF threesome, there is only one man to satisfy two women, something that is rarely accomplished despite any bravado.  A personal rivalry can also develop between the two women during the threesome where both are desiring to be the center of attention and demanding the man's full attention, and both are feeling insecure as a result of the presence of the other woman.  Some researchers suggest that the only truly successful MFF threesomes occur when the two women are primarily focused on each other and the man is only a fun plaything who joins in on their lovemaking.
From the man's perspective, Dr. Scoats' research suggests that MMF threesomes are also becoming more common because many young men are more secure in their sexuality and the stigma of same sex relationships as well as other sexual behaviors are becoming more acceptable in society.  He claims that "having sex in the presence of another man or woman and even doing sexual things with other men or women can now be part of heterosexual identity."
Regardless of MMF or MFF, a threesome can be a very exciting and pleasurable experience for all three participants given the right combination of sexes, expectations of all three, and equal attention for all.  Some people enjoy threesomes as a casual hookup every once in a while, and others enjoy threesome sex on a regular basis.  Whatever a person's desire, threesomes have become a more accepted and common sexual activity in today's society.
YOU MAY LIKE: