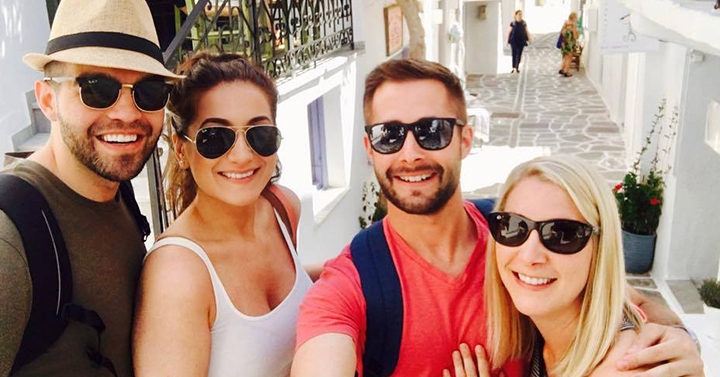 There are many dating apps and websites designed, especially for people who are ready to spice up their sex life and take their relationship to a different level. Nevertheless, it can be a little hectic to know what apps and websites to use – particularly if you do not have hours to spend looking online to find the best fit. We have done all the hard work and provided you with top dating apps and websites where you can meet SLS swingers. We hope that you enjoy this list and find a perfect match, or even matches!
General Dating App
Tinder
Tinder is the most popular dating app worldwide. With 26 million matches per day, users can register and get started finding a swinger partner. Users can send and receive messages discretely as well as share their sexual fantasies on the platform and be open to other swingers who share similar fantasies.
Although Tinder is a great dating app offering incredible value for free, there are a large number of Tinder members seeking hookup or swinger lifestyle relationship. There are a plethora of options available for couples looking to get hooked with other swinging couples without having to visit a swingers club. If you are a serious swinger, Tinder is a cool place to go!
Swinger Dating Apps
3Fun
3Fun app is one of the best dating apps for people who are open to a threesome, swing, and even BDSM. Unlike other dating apps, 3Fun integrated a unique verification system that verifies photos of all swingers are 100 percent real, protect private photos or profile from others and ensure that private photos can only be seen by your match.
Besides, 3Fun offers its users the chance to discover nearby swingers and couples. The fantastic feature about the app is that couples can share one 3Fun account on two devices, then chat with others synchronously.
Feeld
Feeld app is a dating app designed to connect swingers, curious and open-minded couples and singles to like-minded partners looking to explore similar sexual fantasies. Feeld app is a good place for seeking a swinger lifestyle because of its reputation for encouraging threesomes and kinky sex, and fewer people are willing to advertise their interest in those activities rather than "regular" dating.
Feeld (previously 3nder) is basically Tinder for couples. It's a phone app for couples seeking other couples or a swinger, singles, kink, and alternative sexual preferences. Originally launched in the UK, it's made a representation in the US. The app does link to your Facebook account, though, but it won't post anything. Feeld is free, but there's an option to upgrade if you want to view people who have already liked you. Each couple, single or swinger have a profile with six photos (from Facebook), geographical search, 26 sexual preference options, age, interests, and what you're looking for. Then, you simply click plus for yes or minus for no. If you match, then you're able to chat away!
Swinger Dating Websites
SDC
SDC – Seek Discover and Create is one of the best swinger dating apps/sites to enjoy threesomes or swings with the other open-minded members. This easy-to-use app has a fun experience for you. The registration process is easy and you can create a unique profile, even a paired profile with your partner.
Also, you can always see who's online, so that you can get in touch with swinger partner having the same intention. In addition, using the map, you can find swingers or nearby members and couples in real-time and find all the people in your area looking for sex.
SDC gives you live chat, so you can check to see if someone matches you before you meet for sex. SDC also provides the app for iOS and Android apart from the website, which means you can even check for entertainment on the go. So, even when you're out of your country, you'll be able to enjoy threesomes.
Swinger Lifestyle
Swinger Lifestyle is a great place to meet couples and singles ready to explore their sexuality as the largest swinger community in the world. Because the Swinger Lifestyle is not a classic dating app, you will be able to do more than just search for a couple online after a simple registration. The online community offers other valuable information to people in addition to messaging other members such as swinger clubs around the world, swinger related forums, and more. The best part is that this socialist community is going to help you learn a lot about sex and sexuality. Whether you decide to join as a single partner or as a couple with your partner, Swinger Lifestyle will encourage you to locally and widely find members. It's a stigma-free place, and one thing is for sure–either as an observer or as part of the action, you'll explore your needs and enjoy sex.
Adult Friend Finder
Adult Friend Finder is one of the largest websites in the world for sex and swinger. Adult Friend Finder is easily one of the best options as swinger dating sites come (it's also worth mentioning this platform also supports fling dating, BDSM dating, and all other dating styles). Why? Because it not only hosts the world's largest online sex and swinger community, but it's also gay-friendly and offers subscribers access to thousands of articles and member blogs devoted to sex, dating, and more.
Social media
Facebook Group is a popular social community to find singles, swingers, or couples that share common interests and lifestyle with you. Facebook is better for people finding swingers, singles, and couples for casual encounters and no strings attached hookups because it offers value to you, in which you engage and build relationships with fellow members. If you participate in joining the Facebook group for the swinging lifestyle for a while, you'll inevitably feel compelled to meet new swingers or get hooked up to discuss, post photos, and share related content.
There are private Facebook groups specifically for swinging lifestyles. Search for "swingers," or "BDSM," or even "Kink" under the group filters. The results will show groups with members near you, the number of members, and–if you join–a list off all the members you can then connect with. Though many groups are private, a lot of time you have to fill out a one to three question questionnaire, and you're in. Then simply post a photo, introduce yourself, and state what you are there for. Mind you, make sure you read the group's description because if you post something against the group rules, then you can get kicked out by the admin.
Personal Ads Website
Double List is a classifieds, dating and personals site for having fun with swingers or singles. With a user-friendly and easy-to-use platform, you can easily navigate through many interesting profiles and chat with many singles or swingers. If you are looking to meet new swingers, flirt, and have naughty appointments, this dating site is the right platform for you to get a one-night stand or serious relationship.
One of the benefits of using Double List is that it's free for members, and for the cost of nothing, you get access to unlimited free personal ads on the platform, and you also list yours.
YOU MAY LIKE: